===== MSD =====
Name / Naam: Caelan Phaedo Mac Naomhán
Sculpt: Souldoll Soulkid "Joelle" on Doll Legend Strong Body
Skin / Huidskleur: normal skin
Face-up: default
Name / Naam: Phaedra Caoiliann Mac Naomhán
Sculpt: Souldoll Soulkid "Maa" on Luts Model Delf Body T2
Skin / Huidskleur: normal skin
Face-up: Souldoll special
===== YOSD =====
Name / Naam: Vladini Sanquini Afanasiy
Sculpt: Doll Leaves "Dan"
Skin / Huidskleur: white skin
Face-up: Soft Poison
Name / Naam: Imogen Laurin Jolise Afanasiy
Sculpt: B&G Doll The Old World "Mini Buryssa" (fullset)
Skin / Huidskleur: white skin
Face-up: default
Name / Naam: Cho Chung-Cha (blue / blauw)
Sculpt: Limhwa Aria "Dodo"
Skin / Huidskleur: white skin
Face-up: default
Name / Naam: Harley Hebe Greyson
Sculpt: Angell Studio "Kimo" (limited edition)
Skin / Huidskleur: grey skin
Face-up: Soft Poison
Name / Naam: Seirian Caoimhe Ó Maonaigh
Sculpt: Momocolor "Emma" on a Peapod Doll Mermaid tail (discontinued)
Skin / Huidskleur: normal skin / pearl gold
Face-up: default, blushing by Shirelae
Name / Naam: Eden Asphodel Moreau
Sculpt: Momocolor "Michelle"
Skin / Huidskleur: tan skin
Face-up: default
Name / Naam: Sophie Tatiana Moreau
Sculpt: Momocolor 26 "Sophie" (event)
Skin / Huidskleur: tan skin
Face-up: Saskha Art
Name / Naam: Naphtali Oded Vitali Acerbi
Sculpt: Souldoll Sweet "Nova" (fullset, limited edition)
Skin / Huidskleur: white skin
Face-up: default
===== Anthro's =====
Name / Naam: Michi Kichirou Miyamoto
Sculpt: Luts Zuzu Delf "Lio"
Skin / Huidskleur: brown skin
Face-up: and blushing by Shirelae
Name / Naam: Evadne Ushara Ferenike Triggs
Sculpt: Aileendoll "Seed v2" (limited edition)
Skin / Huidskleur: light green skin
Face-up: PuppitProductions
Name / Naam: Breixo Zarya Tawfeek
Sculpt: Aileendoll "Shy" with modded mouth and tongue
Skin / Huidskleur: bright yellow skin
Face-up + mod: PuppitProductions
Name / Naam: Gwawr (baby dragon ^)
Sculptt: Aileendoll "Troublesom"
Skin / Huidskleur: blue skin
Face-up: PuppitProductions
Name / Naam: Keshet Jewel Triggs
Sculptt: Aileendoll "Pico Baby Ashes" with modded belly
Skin / Huidskleur: grey skin
Face-up + mod: PuppitProductions
===== Tinies =====
Name / Naam: Dream-Boy of White Mountain a.k.a Mini Sem
Sculpt: Fairyland Pukifee "Pio"
Skin / Huidskleur: white skin
Face-up: default
Name / Naam: Nimue Y. A. Hayes
Sculpt: Fairyland Pukifee "Ante"
Skin / Huidskleur: normal skin
Face-up: Shirelae
Name / Naam: Yara
Sculpt: Fairyland Pukifee "Vanilla" opened Sleeping Faceplate (shares body with Nimue)
Skin / Huidskleur: normal skin
Face-up + mod: Gigi Holly
Name / Naam: Giachetta Xiomara Vega
Sculpt: Latidoll yellow Lea as Captain Hook (limited edition)
Skin / Huidskleur: tan skin
Face-up: default
Name / Naam: Giacinta Perdita Vega – Velazquez
Sculpt: Latidoll yellow Lea as Wicked Queen (limited edition)
Skin / Huidskleur: tan skin
Face-up: default
Name / Naam: Vlera Muyskens
Sculpt: Fairyland Pukifee "Dony"
Skin / Huidskleur: normal skin
Face-up + mod: default
===== Pets =====
Name / Naam: Scratches Mac Patches
Sculpt: Walloya Morring "kitten" 6.5 cm
Skin / Huidskleur: white skin
Face-up: "calico" by Walloya Morring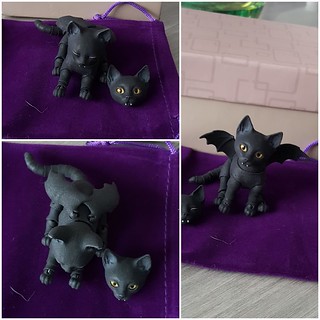 Name / Naam: Boo Gaylord Mann
Sculpt: Walloya Morring "kitten" 4.5 cm
Skin / Huidskleur: black skin
Face-up: "default" by Walloya Morring
Name / Naam: Quinyvar Elvidge
Sculpt: Fairyland Fantasy Art Line "Rus"
Skin / Huidskleur: violet skin
Face-up: Shirelae
Name / Naam: Buttercup
Sculpt: Aileendoll "The Greenery"
Skin / Huidskleur: white skin
Face-up: Shirelae
===== Incoming / wachtend op =====
Harucasting Geuru creamy tan girl v2 body.
===== Waiting for face-up / wachtend op een face-up =====
Harucasting Adori in medium tan v2 body 2 heads (+ mods)
Fairyland Littlefee "Chiwoo Girl" head in white skin (severe mod + dye)
===== Floating / extra =====
Momocolor lower torso and mobility joints in normal skin.
FL PKF Pio SP + extra hands in white skin.
Latidoll Yellow extra hands in tan skin x2.
Aileendoll Seed SP in light green skin.
Aileendoll Egg and pacifier.
Puppit Productions Eyelids.
Resinsoul 1/6 hands in grey skin.
Angell Studio 1/6 hands in grey skin.
Harucasting I Love Mom hand in medium tan.
Harucasting hand in silver.
FL PK Dony SP in normal skin.
Doll Legend male hands in normal skin.
Walloya Morring Calico Heads (Angry / Licky / Sleepy).
Walloya Morring Vampire Kitten Head (Sleepy).
===== For Sale / Trade ; te koop / te ruil =====
Doll Legend jointed hands long nails for msd.
Luts Zuzu Delf Type 1 body in real skin brown.
===== Dolls sold / traded ; poppen verkocht / geruild =====
– Aziza Morgaine Perry (Dollzone "Annie" in normal skin).
– Doll Chateau baby body 01 in white skin for FL LTF boy body in white skin.
– Fairyland Littlefee New Family full doll in white skin for FL PKF Ante.
– Magic Time Angel Wings in transparent resin.
– Souldoll Antler set in white skin traded for clothes.
– Alyssa Silke Reid (Dollzone "Maca" head in white skin).
– Shoshana Jasmine Sannuri (Fairyland Littlefee Leah in white skin + SP + Glati Hooves + Sparrow Shop horns).
– Samanya Amara McKenna (Soom Teenie Gem Sammi + fantasy parts in pink skin).
– Lilou Laia Lennox (Lati Yellow Kimmy in normal skin).
-Souldoll NL Bodies girl + boy in normal skin + extra bust part and high heel feet and extra male hands.